Owning a high-standard gun is the first priority, but choosing a suitable cartridge is no less important! Among the common cartridges on the market, both 6.5 Creedmoor and 7mm-08 are considered the top products ever created.
However, which one could provide you with the ideal deer hunting experience? Read on to find out the comparison 6.5 Creedmoor vs 7mm-08!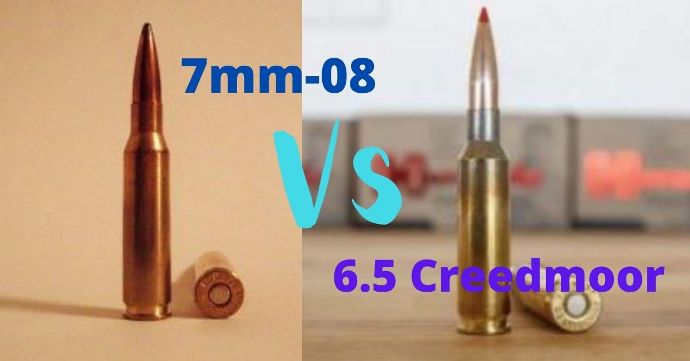 History of  6.5 Creedmoor And 7mm-08
The story of the 7mm-08 and the Creedmoor starts with the .308 Winchester. This cartridge, first introduced by Winchester in 1952, immediately gained a reputation among hunters and shooters. Subsequently, gun designers began modifying the .308 Winchester almost as soon as it was launched to create a modern and more professional wildcat magazine.
The 7mm-08 was standardized by Remington in 1980 and was modified by the .308 Winchester case, slugged down to discharge 7mm rounds. The same is used in the Remington 7mm-08. 284′′ bullets, and they offer great performance. When the Creedmoor was introduced, hunters are provided with another option who are looking for a rifle with mentioned performance features.
Hornady Manufacturing's Dave Emary and Dennis DeMille designed the 6.5 Creedmoor, which was unveiled in 2008. Specifically, they created the cartridge to gain an advantage in high-powered rifle competition.
Differences Between 6.5 Creedmoor Vs 7mm-08
The fundamental distinctions between 6.5mm and 7mm-08 are piercing power, velocity, and type of target. The 6.5 Creedmoor is a long-range cartridge that may be used with quick reaction rifles. The 7mm-08 provides a significant edge for hunting big animals.
Let's take a closer look at two cartridges to make a final decision:
Ballistic Performance
In terms of ballistic, the 7mm-08 might offer you a slightly higher muzzle velocity compared to the other if you try running a 140-grain bullet through both cartridges. However, our experience indicates that the 6.5 is less affected by the wind in terms of the ballistic coefficient (BC). The Remington one, on the other hand, could be loaded with bullets with a greater BC.
Furthermore, the Hornady bullet has a higher SD (sectional density) than any other 7mm cartridge when comparing bullet weights. Remington, for example, could only deliver 0.248 SD with 140-gram bullets, while 6.5 had 0.287 SD. As a result, the Creedmoor bullet allows you to kill more deer.
Price
Compared to Creedmoor 6.5, its rival 7mm-08 is more expensive. However, Remington cartridges are not expensive. Both offer low-cost, ammo of exceptional quality that performs well and accurately for deer hunters.
Customer reviews show that even at low prices, the accuracy is not compromised at a low level. As a suggestion, you might wish to purchase in quantity to save even more money.
Accuracy
Both cartridges are well-known for their accuracy in long-range shooting. Particularly, based on the 7mm-08 cartridge manufactures, the bullet has an outstanding balance, case capacity, a charge of propellant, and accuracy. 
The other cartridge, on the other hand, is becoming considerably popular among deer hunters. At 400 yards, you might be able to finish a deer easily.
Recoil
Low recoil is also a reason why the 6.5 and 7mm-08 are so popular. When compared to the majority of recent hunting cartridges, these are among the best.
The 6.5 would regain the lead for a deer gun since its recoil will be reduced than that of the 7mm-08. However, the difference is so minor that it may not be noticeable.
Range
If you're looking for a rifle with a range of around 1,400 yards, the Creedmoor could be the best one for you. Despite the fact that both are capable, Remington shines in a considerably shorter range.
For instance, if a deer huntsman is looking for an over 400-yard range, both of these options may easily meet your needs. 
Size And Weight
Factory 7mm-08 loads typically employ 120-160 grain 7mm bullets. The most frequent bullet weights for that cartridge are 120, 140, 150, and 160 grains. Besides, 7mm-08 is significantly smaller, but in terms of total length, it is marginally shorter. In spite of caliber, the 7mm-08 offers a wide range of bullets ranging from 100 – 175 grains.
Shooting Capacity
The 7mm-08 produces a greater velocity of 2800 ft/s with 140-grain ammunition. Because of its high-standard build, you will be able to get a good shot with lower meat damage.
In contrast, the 6.5 Creedmoor offers a greater benefit of penetration. According to user feedback, gravity, wind, and other impediments are less important in influencing the round's trajectory if you use Creedmoor.
In Sum
6.5 Creedmoor Vs 7mm-08 – The latter would be a superior pick if you're seeking the larger game, such as moose, elk, or black bears. It will also provide you additional speed. However, Creedmoor will have a substantial advantage in terms of penetrating powers. 
Although 7mm-08 may have a little advantage in terms of accuracy, bullet choices, ammo availability, etc., the Creedmoor also has its advantages. If you want to experience a long-range with more killing power, 6.5mm Creedmoor, which delivers over 2,000 foot-pounds muzzle energy for each 9gram ammunition mass, would be a better choice!
Hope you choose a suitable cartridge after researching all about 6.5 Creedmoor vs. 7mm-08!